Sandblasting Capacity 250 kg
---
AirStrokeHD Platform
AirStroke HD - special variant of the 3-axis AirStroke platform for use in shot blasting and sandblasting booths.
This pneumatic lift is an advanced version of the paint platform. It has been designed from scratch to be able to work in the most difficult conditions. Innovative solutions of multi-layer shields and covered mechanical joints protect the internal mechanisms and pneumatic equipment from shot, dust or abrasive. The drives of all 3 axes have been enlarged in relation to the paintlift to ensure reliability in the toughest conditions.
AirStroke HD is the development of the AirStroke platform with greater stability and durability. While constructing this lift, we focused on equipping it with effective blast protection systems while maintaining other features of our platforms: safety, efficiency and comfort of work.
The components used in the production of G-Lift platforms come from the world's leading manufacturers.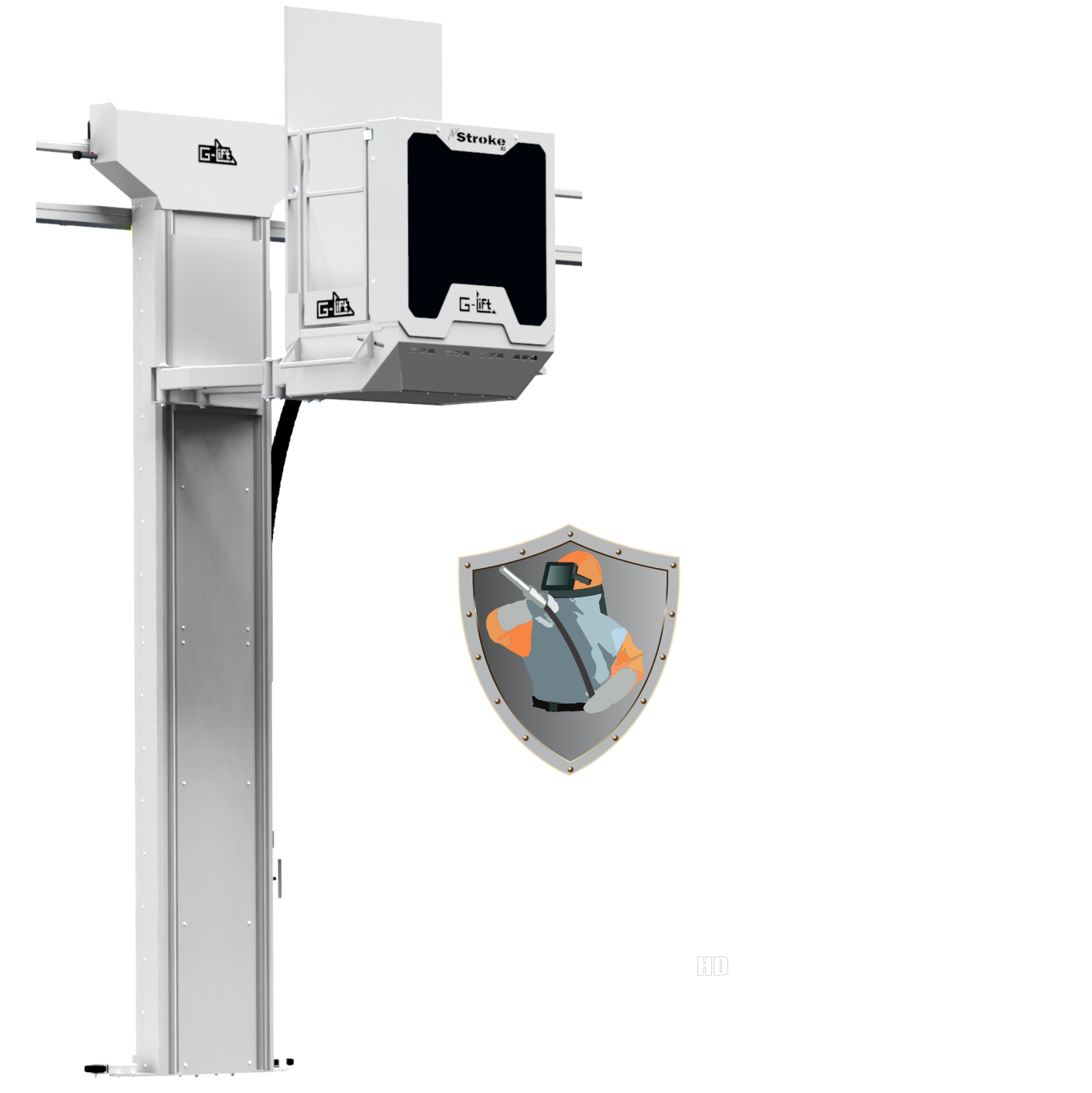 Technical
specifications and parameters
mounting
on the wall without contact with the floor
range of movement

lifting

up to 7000 mm

along the wall

up to 30 m, max. depending on the compressed air supply system
telescopic extension
1200÷2000 mm
workspace
up to 10 meters from the floor
up to 4 meters from the wall
color
RAL 7040
load capacity
250 kg (operator + equipment)
travelling speed

lifting

6 m/min

along the wall

15 m/min

telescopic extension

6 m/min
control
inside the cage: up/down; right/left; in/out
at ground level: up/down
power supply

compressed air

6÷7 bar ISO 8573-1:2010

wear

350 l/min

connection

2000 l/min (for platform and tools)
break
in upper rail
optionally additional break on lower support wheels
Model range
---
The innovative design of AirstrokeHD platforms enables the increase of the range of its movements compared to existing solutions available on the market, which allows for a significant increase of the workspace.
With AirstrokeHD platforms we gain easy access to the upper surfaces of large objects such as rail cars or aircraft components.
Dimension
BASE
PLUS
MAX
C
1200
1500
1800
SV
2000 mm to 7500 mm with increments of 100 mm
D
2450
2850
3250
SHY
1200
1600
2000
HC
SV + 1900
G
The height of cage railings from the cage floor = 1100 mm
▲
Copyright © G-Lift 2023. Projekt i wykonanie: Agencja Reklamowa Nylon Coffee