Two persons Drive on floor
---
AirStroke
Duo-F
Platform
The AirStrokeDuo-F platform is the first of its kind in the AirStroke family: the "F" stands for Floor, as the lift is moving on the ground.
Frequently, it is not allowed to put stress on the structure of the paintbooth, like eg. hanging rails, or platforms on the walls. This requirement stated by Clients with "light" paintbooths led us to designing the AirStrokeDuo-F lifts.
The previuos top-drive of AirStrokeDuo was moved to the bottom wheels, so the platform now stands and moves solely on the ground. The top-rail is used solely for stability and doesn't exert much force on the walls. This solution allows to use our lifts even in paintbooths with structures of low capacity.
All major features of our platforms were preserved: fully pneumatic drive, lift and extension, advanced safety systems and comfortable and ergonomic basket.
Additional advantages of double platform are:
big cage with the dimensions of 2200x1100 mm,
load capacity up to 300 kg
telescopic extension up to 2 meters, which is not common among competitive devices of this type. This feature distinguishes AirStrokeDuo-F on the market.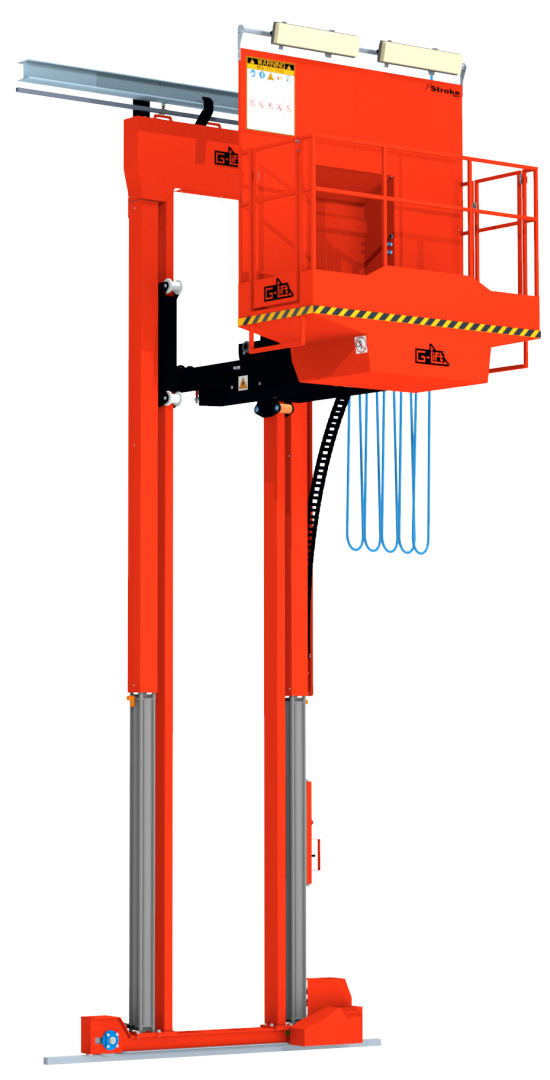 Technical
specification and parameters
mounting
on the floor
range of movement

lifting

up to 7000 mm

along the wall

up to 30 m, max. depending on the compressed air supply system
telescopic extension
400÷2000 mm
workspace
up to 10 meters from the floor
up to 4 meters from the wall
color
RAL 2004 / RAL 9005
load capacity
300 kg (2 operators + equipment)
travelling speed

lifting

6 m/min

along the wall

30 m/min

telescopic extension

6 m/min
control
inside the cage: up/down; right/left; in/out
at ground level: up/down
power supply

compressed air

7÷8 bar ISO 8573-1:2010

wear

350 l/min

connection

2000 l/min (for platform and tools)
break
on bottom wheels
optionally additional break on top rail
Model range
---
The innovative construction of AirstrokeDuo platforms has been designed for even greater range of movement. Thanks to the unique design solutions AirStrokeDuo platform has a 2-meter telescopic extension what enables larger working space in comparison with the Airstroke platform.
With AirStrokeDuo platforms even easier access to the upper surface of the oversized objects is gained.
Dimension
Model DUO
Model DUO PLUS
Model DUO MAX
A
1030
1230
1430
B
700
900
1100
C
2200
SV
2000 mm to 7000 mm with increments of 100 mm
D
2230
2830
3430
SHY
1200
1600
2000
HC
SV + 2400
G
The height of cage railings from the cage floor = 1100 mm
▲
Copyright © G-Lift 2023. Projekt i wykonanie: Agencja Reklamowa Nylon Coffee